Welcome to Cale's new Honda S2000 Page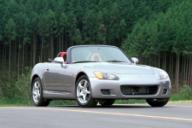 ---
Honda Motor Co has unveiled the prototype of its long-awaited new generation sports car, the Honda S2000.
The result of a long-term development program, the open-top, two-seat, rear-drive Honda S2000 has an uncompromising blend of high performance, low exhaust emissions and high safety.
It features one of the most powerful naturally-aspirated four-cylinder engines in the world, producing 180 kW from just 2.0 litres. This equates to a remarkable120 horsepower per litre.
Despite this performance, it meets the Low Emission Vehicle (LEV) exhaust standard, which is 90 per cent below the current Japanese regulation.
The Honda S2000 was unveiled at Honda's Head Office in Tokyo by Honda President Hiroyuki Yoshino, exactly 50 years to the day that Honda founder Soichiro Honda created the company.
The Honda S2000 is a far cry from Mr Honda's first product - a motorised bicycle powered by a war-surplus two-stroke engine from a radio power generator.
The S2000 is based on the Honda SSM (Sports Study Model) exhibited at the 1995 Tokyo Motor Show, and is the spiritual successor to one of Honda's first motor vehicles, the S600 sports car, released in 1963.
Mr Yoshino said environmental and safety technology were the focus of today's car development, and Honda had applied those values to a sports car designed for sheer driving pleasure.
"This car indicates the direction that Honda's car design is headed," he said.
Mr Yoshino said testing and development would continue on the Honda S2000 until its sales launch in Japan next spring.
In creating the S2000, Honda wanted to achieve the highest level of unity between the driver, the car and the environment.
For maximum performance with minimum weight, Honda developed a new, compact 2.0-litre, four-cylinder, 16-valve engine with DOHC VTEC variable valve train.
The engine is mated with a six-speed manual transmission, and is mounted behind the front axle, giving the S2000 an ideal 50:50 weight distribution.
The S2000 puts its power down via the rear wheels, joining the NSX as Honda's only current rear-wheel-drive passenger cars.
Honda has developed an open-top body with levels of rigidity usually associated with a closed body, providing superior handling and comfort, plus benchmark crash safety.
The soft top is electrically operated.
The Honda S2000 will be built in the same factory as the NSX, at Tochigi, next door to Honda Research and Development's Tochigi research centre and proving ground.
The Honda S2000 is scheduled to go on sale in Australia in mid-1999.
---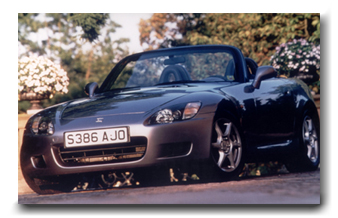 ---
Click here to view the Specs Sheet
---
---